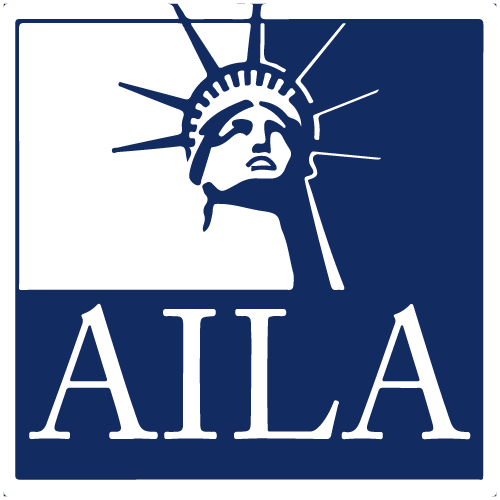 AILA University
EB-5 RIA Live Online Course
5 (3 votes)
EB-5 Reform and Integrity Act of 2022 (RIA): Reauthorization, Significant Changes and What They Mean for You and Your Client
Learn about all the new changes in effect now and upcoming for EB-5 investors and Regional Centers after the passage of the 2022 EB-5 Reform and Integrity Act (RIA). This live online course will have content for practitioners at all levels. AILA experts will break down the updates and changes at both high and granular levels and bring it down to what it all means for your clients and your practice on the ground. Learn practical strategies for your EB-5 case, prepare your practice for the new RIA regime, and get a refresher on how to stay in your lane and avoid ethical pitfalls.
Live Online Course Format:
This AILA University course, held over four weeks in May, includes eight, one-hour webinars, held at 3:00 pm ET Wednesdays and Fridays. Registrants may join at any time during the four weeks as recordings will be available on the site by the next business day. Due to the late breaking nature of this course, CLE credit is not available.
Course Includes:
8, one-hour webinars covering the latest information on EB-5

Access to recordings of webinars

AILA University Course Discussion Board

—

Ask questions and connect with speakers and colleagues on EB-5 Issues between

s

essions
Sessions:
WEEK ONE: THE BIG PICTURE 
Session 1, May 4: 2022 EB-5 Reform and Integrity Act: What Do We Know and What Don't We? 
Grandfathering

Concurrent Filings
Effective

D

ates

Set Asides
TEAs
Investor

P

rotections / Integrity

What We Don't Know
Immediate Visa Availability for

Regional Center (RC)

I

nvestors

Impact on Prior RC Designation
Faculty:
Robert C. Divine (DL), Chattanooga, TN
Jeffrey E. Campion, AILA EB-5 Investors Committee, Weston, FL
Dillon R. Colucci, AILA EB-5 Investors Committee, Los Angeles, CA
Session 2, May 6: For the Practitioner on the Ground: What Can You File, When, and Other Pressing Practical Questions Answered  
Grey Areas and Elevated Risk

—

Can New Cases Be Filed Without New Forms and Regulations?

Consular Processing vs

.

AOS Strategies

Communicating Novel Issues and Risks with Clients
Processing Times

Good

F

aith

I

nvestor

P

rotections

I

ncluding Defrauded Investors
Faculty:
Matthew T. Galati (DL), AILA EB-5 Investors Committee, Elkins Park, PA
Phuong N. Le, AILA EB-5 Investors Committee, Los Angeles, CA 
Kristal Jeanette Ozmun, Ithaca, NY
WEEK TWO: A CLOSER LOOK 
Session 3, May 11: Existing Investors: Responding Astutely to "What Does This Mean for Me, Counsel?"  
Pending Cases 

Backlogs at NVC / Consular Capacity  

Set Asides 

CSPA Issues with Aged

-

Out Children


Administrative Exhaustion Requirement
Faculty:
H. Ronald Klasko (DL), AILA Past President, AILA High Impact Litigation Committee Chair, Philadelphia, PA
Bernard P. Wolfsdorf, AILA Past President, AILA EB-5 Investors Committee, Santa Monica, CA
Bradley B. Banias, Charleston, SC
Charles Oppenheim, Washington, DC
Session 4, May 13: And Now for Something Technical: Effect of the Regional Center Program Repeal, New Job Creation Rules, TEAs and More  
Are

N

ew

P

roject

P

reapprovals Required?

New Certifications Required by Regional Centers and Investors

When and How Will TEA's Be Decided?

Direct-Indirect Job Creation Rules
New Definition of "Capital"
Faculty:
Jennifer Hermansky (DL), AILA EB-5 Investors Committee Vice Chair, Philadelphia, PA
Michele A. Franchett, AILA EB-5 Investors Committee, Los Angeles, CA
Kyler James, Chief Economist, CMB Regional Centers, Meridian, ID
WEEK THREE: REGIONAL CENTER REBOOT 
Session 5, May 18: Regional Center Oversight: Examining Investor Effects 
Certifications by

RCs

and Promoters

Integrity Measures

Fund Management Requirements

Fund Administrator

R

equired for

E

xisting NCEs or

O

nly

N

ew

F

ilings?

CPA and Business Advisors 
Disclosures to Investors
Audits and Site Visits
Faculty:
David Morris (DL), AILA EB-5 Investors Committee Chair, Washington, DC
Walter Solomon Gindin, AILA EB-5 Investors Committee, CanAm Enterprises, LP, New York, NY
William Gresser, EB-5 New York State Regional Center, LL.C., Buffalo, NY
Jill Jones, JTC Americas, San Jose, CA
Session 6

, May 20

:

Direct EB-5: A Third Revival or Dead Again?
Pooled Directs Still Viable?

How Will TEAs Be Determined?
Types of NCEs that Can Be Used
Recent Adjudication Trends with Direct Cases

R

equests for Evidence

on Job Creation

Using 3

rd

Party Evidence in Support of the Business Plan

New Source of Funds Requirements
Faculty:
Joseph Martin Barnett (DL), AILA EB-5 Investors Committee, Santa Monica, CA
Edward C. Beshara, AILA EB-5 Investors Committee, Maitland, FL
Mona Shah, New York, NY
Kurt Reuss, eb5Marketplace, Toronto, CA
WEEK FOUR: SNEAK PREVIEW—WHAT'S AHEAD
Session 7

, May 25

:

Staying
in
Your Lane: Preparing Your Practice for EB-5 2.0
Updating Engagement Letters

Advising Clients Who Wish to File Ahead of Implementing Regulations

Focusing on the

Immigration Lawyers' Role

—Common Pitfalls

Client Questions on RC Projects: Immigration Lawyers' Role and Limitations
Faculty:
John Patrick Pratt (DL), AILA EB-5 Investors Committee, Coral Gables, FL
Kenneth Craig Dobson, AILA Ethics Committee, AILA Lawyer Well-Being Committee Vice Chair, New York, NY
Gawain Charlton-Perrin, Director of Risk Management, Hanover Professionals, Itasca, IL
Session 8

, May 27

:

Advocacy
: It
Ain't
Over Yet and the Real Work Begins
Which Sections of the Law Require New Regulations?

Which Areas May Be Clarified Under the Policy Manual Only?

Areas of Advocacy for Lawyers and the Public

Continued Areas of Litigation Against the Agency
Faculty:
Carolyn S. Lee, AILA EB-5 Online Course Planning Committee Chair, AILA EB-5 Investors Committee, Ithaca, NY
Aaron Grau, Executive Director, Invest in the USA (IIUSA), Washington, DC
Jonathan Bernard Baselice, Vice President, Immigration Policy at U.S. Chamber of Commerce, Washington, DC
The speakers' views do not necessarily represent the views of AILA, nor do they constitute legal advice or representation. Practice tips provided in the written materials are based on the speakers' experiences and current state of the law. Please be sure to conduct legal research and analysis for your unique situation as the law changes quickly and the speakers' experiences may differ from your own.
Key:

Complete

Next

Failed

Available

Locked
How to Take the AILA EB-5 RIA Online Course
Open to download resource.
Open to download resource.
The recordings for these sessions will be added within 2 business days after the live event.
I Agree